David B. Peterson
In Memory of David Peterson, Ph.D.
We are extremely saddened at that passing of EDA Advisory Board Member, David Peterson.  He was a great contributor to the field of executive development and is dearly missed as both a friend and an advisor to so many.
Here are a few of the important things he said in our last Trends in Executive Development research:
"Crisis often sharpens focus and increases alignment, because leaders know they must act quickly on the key priorities. It's easier to get people aligned in a reactive way, but it's almost impossible to maintain that alignment as people return to their everyday roles, where teams have different priorities and it's much more difficult to ensure collaboration across boundaries."
Celebrating the Life of David B. Peterson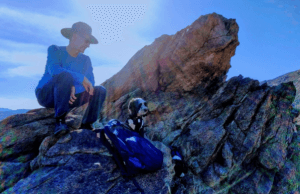 David B. Peterson was born in Salina, Kansas on an airforce base to the late Franklin and Lois Peterson. He was joined by his sister Nancy a year later and they were raised in Rothschild, Wisconsin. He was the intellectual in a diversely talented family.
During high school, David developed a passion for language where he learned Spanish, German, Latin, and Norwegian. He graduated from Bethel College where he majored in linguistics, anthropology, and psychology. While in college, he learned American Sign Language. Very quickly, David became fluent in multiple forms of Sign Language, and he was one of the few and earliest hearing students who attended Gallaudet University.
David earned his Ph.D. in Counseling and Industrial/Organizational Psychology at the University of Minnesota. He was a Fellow of the American Psychological Association, the Society of Consulting Psychology, the Society for Industrial and Organizational Psychology (SIOP), and the Harvard Institute of Coaching. David was a world-class executive coach and thought leader in executive development for over 30 years. In 2019 he was selected as the #1 Corporate Coach in the world and in 2020 received a Lifetime Achievement Award for his significant contributions to Executive Coaching. His awards included the RHR International Award for Excellence in Consultation (Society of Consulting Psychology), the Outstanding Achievement Award (California Psychological Association), the Vision of Excellence Award (Harvard Institute of Coaching), and a lifetime achievement award from Coaching at Work.
After leaving Google in 2020, David was an active executive coach to senior leaders from leading companies, ranging from Apple to Zoom, on topics such as leading in complexity, strategic thinking, high-velocity decision-making, and building leadership agility and resilience.
As Chief Transformation Officer at 7 Paths Forward LLC, David helped seasoned executive coaches raise their game and prepare for the rapidly evolving leadership landscape by developing new mindsets and advanced coaching capabilities. He impacted thousands of seasoned coaches who miss him dearly. His clients and mentees remember his wry smile, wit, clarity, and ability to help them develop quickly. The later years of his work were all about mastering coaching with love.
Prior to co-founding 7 Paths Forward, David led Google's Executive Coaching & Leadership (ECL) team for 10 years, where he built one of the world's most innovative and high-impact coaching programs. During his tenure at Google, he coached over 400 senior leaders, including more than half of the company's VPs and SVPs, provided onboarding coaching to all newly hired VPs, led the agile organization design team to help prepare Google to address emergent and disruptive leadership challenges, and designed and facilitated highly-rated workshops on organizational design, coaching skills, scaling your leadership, and decision-making in complexity.
Before joining Google, David served as Senior Vice President of worldwide Executive Coaching Services at PDI Ninth House (now part of Korn Ferry), where he coached senior executives at Microsoft, Salesforce, Intel, Hewlett-Packard, Sandisk, American Express, Walmart, Target, Shell, Chevron, Mayo Clinic, Stanford University, Harvard University, and Genentech, as well as Silicon Valley tech startups. He provided consultation and thought leadership to dozens of leading organizations on how to design and manage organizational coaching programs, develop high-potential leaders and critical talent, and accelerate learning and leadership development at all levels.
David is honored to be one of the MG100 coaches and the Inaugural Ethical Coaches. He served on the Advisory Boards of Coaching.com, Executive Development Associates, and NYU's Executive Coaching and Organizational Consulting program, David co-founded the Institute for Contemporary Leadership which focused on accelerating the development of high-potential leaders and equipping them to deal with disruption, complexity, and transformational change. The Institute provides top leaders with a high-trust peer network, disruptive development experiences, and a personal development advisor/coach to guide their journey.
David has published dozens of articles and chapters on coaching, is co-author with Mary Dee Hicks of "Development FIRST: Strategies for Self-Development" and "Leader as Coach," with over a million copies in print, and co-editor of the Handbook of the Psychology of Coaching and Mentoring.
Vikki Brock's History of Coaching (2008, 2012) names Dr. David B. Peterson as one of the primary influencers in the field, both for his early influence on the emergence of executive coaching and for continuing to shape the field "on the cutting-edge of the profession, doing and saying surprising and thought-provoking things."
Aside from the coaching world, David had three other intense passions: Alexis, music, and food/wine.
David met his wife Alexis at an APA Conference in 2001. Their souls merged together with shared passions of creative and intellectual pursuits. David and Alexis' deep love for one another was evident in their mutual support and affection. Their capacity to care for others was abundantly reflected in how others loved and received them; their home was known as a community refuge where "logical family" gathered for music, food/wine, connection, and belonging. They enjoyed traveling, experiencing different foods, wine, and cultures, and sought out countless adventures. Alexis and David's relationship represented the best of love – loyal, committed, unwavering, eternal, and a whole lot of fun.
Attraction to music began for David at a very young age. Throughout his life, he intentionally exposed himself to genres and scenes that were underground or on the verge of becoming the next trend. Whether it was underground punk rock shows in the 80s in Washington DC,
indie rock shows in Minneapolis, hip hop clubs in San Francisco, the countless independent musicians he found that no one else had heard of, or most recently, his deep love for emo rap and all things boygenius, he was always seeking and exploring new music (David's Top 100 Songs).
Around 2005, David, who had gone by the nickname Danger for many years, came up with a rap persona called Danger D. He wrote his own raps and performed at his home, at parties, and on a few occasions at coaching conferences. He later said that Danger D was evolving and his next rap persona was born, sKnowleopard ("you don't know until you KNOW"). sKnowleopard performed his more insightful and development-related raps with colleagues and at Google. Music and its magic was a shared love that David and his wife kept at the core of their lives together by hosting countless house concerts, sponsoring independent musicians', attending numerous concerts/festivals, and curating soundtracks for anyone visiting their home.
Over thirty years ago, David connected with a group in Minneapolis that shared a deep passion for food and wine. This group is where David met his best friend, Russell Bevan, and many friends that became part of David and Alexis' "logical family". The world of food and wine brought chefs and winemakers into David's personal life and was also at the core of David and Alexis' life together. Their love affair with Napa Valley wine grew together over the years. They eventually built their dream home in Calistoga, close to many of the winemakers David revered, most of whom became great friends.
David's wine brilliance was extraordinary: an encyclopedic memory of vintages coupled with a fine-tuned palate, and the talent to taste and blend. In the wine consumer world, he will be remembered as one of the most generous wine collectors – always sharing his cherished bottles with friends and colleagues – and a superfan/historian of his biggest wine obsession, Sine Qua Non, by Manfred Krankl.
David suffered a stroke in December 2021 and another in October 2022. Throughout this time, David's incredible passion, discipline, and spirit were tested as he worked to recover in ways that constantly surprised his medical team. His beautiful partnership with his wife provided unprecedented support to beat the odds that stroke victims receive.
David is survived by his wife Alexis Shoemate, his best friend Russell Bevan, his wonderful business partner David Goldsmith, his sister Nancy Peterson, his inlaws The Kenleys and The Shoemates, many family members, and their dog Cabi (as in Cabernet), his devoted Tibetan Terrier. He also leaves behind his beloved logical family and a large community of friends, clients, and colleagues.
Schedule a chat with one of our expert coaches
To speak with an EDA professional, please fill out the form. Be sure to identify a solution or product you are interested in pursuing. We look forward to speaking with you!