A Story of Hope, Leadership and Perseverance. How One Woman Went from an Underserved Community to Vice President in the Biopharmaceutical Industry.
"Just as despair can come to one only from other human beings, hope, too, can be given to one only by other human beings."  
-Elie Wiesel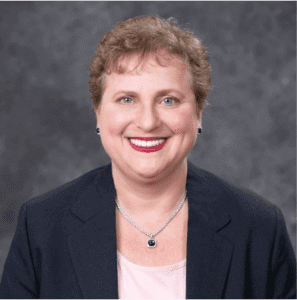 Roslyn (Roz) Schneider MD, MSc, FACP, FCCP 
VP, Scientific, Medical and Patient Affairs at Theravance Biopharma US, Inc.  
Location:  New York City Metropolitan Area, United States 
Great Leadership as a Result of Great Struggles 
Dr. Roslyn Schneider (Roz) is the daughter of Polish and Hungarian immigrants who survived the Holocaust.  Her father was originally from Poland, but his family was exiled to Siberia before World War II, and her mother was from Budapest, Hungary.  Her mother was one of the hidden children, tucked away in a convent so that she and her sister could survive by pretending not to be Jewish.  Her parents' background has always had an impact on how Roz sees the world, and it's always been important to her to do work that she felt was meaningful.  She was born in Manhattan where her interest in medicine emerged early in her life.  When she was only 13, she was misdiagnosed by a physician and then later correctly diagnosed with Graves' disease, by an ophthalmologist.1 "Graves' disease is an immune system disorder that results in the overproduction of thyroid hormones (hyperthyroidism)2."  Once correctly diagnosed, she was able to get medicine and return to health.  Through this experience, she became interested in helping others diagnose and understand their health problems and she also wanted to be able to help people in underserved communities like the one she lived in. 
She pursued a medical education at what is now known as the City University of New York School of Medicine in a unique program that focused on community health, social medical needs, and public health.  She still feels very fortunate to have had the kind of a training that gave a more holistic approach to people and what they need long before we understood the need for holistic medicine.  It was a catalyst for her life-long passion into patient-centric medicine. Initially intending to go into geriatric medicine, she soon realized that was ahead of her time and struggled to find mentors to help her learn what she needed.  
Roz had always enjoyed science and technical devices, and she became one of the few women at the time interested in the procedure aspect of pulmonary and critical care, particularly in ventilator management.  She added teaching and oversight of medical residents to her portfolio of responsibilities.  She loved her work at the hospital. She loved teaching the students, fellows, and residents and watching them grow.  She also loved the patient care itself, being at the bedside and working with families and patients to help them meet their goals.  She was planning to spend her entire career there at Beth Israel caring for patients and teaching.  But then, Roz experienced 3 life-changing events that ultimately caused her to change the trajectory of her career.   
The first was September 11th, 2001.  She was in New York City the day terrorists used commercial airliners filled with people as missiles and took down the Twin Towers.  She saw the buildings fall from her office.  She stood at first in shock and then moving into action, she and her colleagues prepared quickly and diligently for the tremendous critical care need that would soon be upon them.  They prepared to turn the entire hospital into an intensive care unit.  But when the smoke cleared, it wasn't needed because the people didn't come.  They were either killed or able to get out before the fall or sent to burn units. 
Roz and her colleagues stayed five days straight in the hospital after September 11th.  They just weren't going to leave in case people needed them.  When she finally did go home, unexpected insight came from her 10-year-old daughter Brooke.  She looked at Roz and said, "Mommy, I know you were waiting for the people to come, and they didn't come. So, I know you're sad."  And Roz was sad, very sad.  She was sad because she was unable to help the victims, but there was more.  Having grown up the child of Holocaust survivors she knew that she had been privileged to have both the gift of education and to primarily be in a safe environment, unlikely to experience the kinds of hardships her parents had before coming to the United States.  But the shocking devastation of that day opened her eyes.  Neither she nor her family or community were safe from the atrocities of this world.  
She continued to work at the hospital, but the scales were off her eyes and when a few years later, two of her residents died within six months of each other, likely by suicide, her heart for working in the hospital began to change. As a Program Director of 119 medical residents, Roz felt responsible.  She, like most of the Program Directors, had become much more than teachers for their medical residents.  They were mentors, teachers, employers and often like parents to the young aspiring physicians, so losing them felt like losing a family member.  
Roz needed a lot of help.  She relied on her daughter and husband as well as her close friends. At the same time, she and her colleagues needed to help the residents, students, and fellows, because many were also going through a period of blaming themselves for this worst imaginable outcome. They wondered why they didn't see it coming and if there was anything they could have done to have a different outcome. Ultimately, they realized that the expectation of the two residents would be that they move forward, and that was one of the best ways they could show their honor and respect for them.   
Roz sought professional advice through a psychologist to be able to deal with these tragedies in a protected space. She needed to find a formal way to work through it.   She read a lot of books and continues to read both for inspiration and healing. Nothing in her training or life could have prepared her for the tragedies.  She had taken care of people at the end of their lives and was grateful that she could help make their end of lives better by working with them and seeing what they wanted, but she never had an expectation that this could happen to her residents. It flipped a switch inside of her and she began to consider if there was something else she could do and still have the same mission of healing.   
Roz did find a new way to serve by taking her talents into biopharmaceutical industry where she has since worked for companies like Pfizer, Theravance, and now BioMarin Pharmaceuticals, in important roles such as Global Patient Affairs Lead, VP, Scientific, Medical and Patient Affairs, and now VP, Head of Global Patient Advocacy and Engagement.  And, she has been able to contribute in different ways with medical affairs, medicine development, medical strategy, and patient-centered care from the medical side of healthcare.  The work is far from over.  Roz's love for collaborating with patients and healthcare providers will undoubtedly continue to shine in her work and in her life. 
Roslyn's Highest Achievements  
Clinical Professor of Medicine, Albert Einstein College of Medicine: Led training programs and mentored medical students, residents, and fellows who are now Heads of clinical departments at prestigious integrated health delivery networks, and best-selling authors, preparing the next generations of health care professionals.



Medical Ethics Committee service: Addressed improving end of life care and co-authored the American College of Chest Physicians' position paper on Palliative Care for Patients with Cardiopulmonary Disease.

Global Patient Affairs Lead at Pfizer: Created and led a new organization within Pfizer's Chief Medical Office to involve patients more systematically across the company and the lifecycle of our medical products to improve health and business outcomes across the globe. I continued that work in my independent consulting

,

my position at Theravance Biopharma

, and now at BioMarin Pharmaceuticals

. 
Words of Wisdom from Roslyn to You:  
"There are the paved and rocky paths we all face with experiences that seem unbearable. Lean on others to help you and take the time you need to heal and head toward whatever is meaningful to you. Think about possibilities for yourself to go toward that destination or purpose in different vehicles (role, employer, type of business, etc.)." – Roslyn (Roz) Schneider
Bonnie Hagemann
CEO, EDA, Inc.
Executive Coach, Author, Speaker and Leader of Custom Executive Development Consulting Firm with world-class consultants, recognized in their fields as the creme-de-la-creme. Services include Executive and Leadership Development, Executive Coaching, Succession Planning, and High Potential Development.

The Trends in Executive Development report has been the leading compilation of research for organizations across the globe to benchmark their executive and high-potential development.

A deep dive into the notion that a compelling vision is a differentiator for organizations that want to hire and retain talent, be more competitive, and thrive in uncertain times.

A powerful collection of 36 stories about how the world's most successful women have overcome some of life's biggest challenges to reach the top of their professions.